Are you looking for reasonably priced mountain bikes? Are you feeling concerned because of the saying "you get what you pay for"? Are you afraid that if you buy a cheap bike, it won't come with high quality and great endurance?
No worries, budget mountain bikes don't mean you'll have an item with lesser experience in trail riding, street tricks, or mountainside performance.
With the advance of state-of-the-art technology, and under the pressure of the competition in the mountain bikes market, many manufacturers have produced affordable products for the mid-range consumers, or entry-level cyclists who are tiptoeing into this trendy sport. So if you take some time to find out, you will find some great deals from reliable retailers online and offline.
Check out the article covering the best mountain bikes for money shortlist below, for a chance to buy a bargain to join you in your next ride off the beaten track.
Top 5 of Best MTB In 2020 ?
A diversified bicycle market will have countless models coming from numerous brands, and each brand has tons of mountain bike models and different prices. Here, we will only talk about bikes priced under $ 1000 because this is a fair price for cyclists desiring to get off-road on a budget. Bicycles more expensive than $ 1000 are often overlooked, as not many people are willing to buy a bike, which costs a grand. Make sure you have at least $ 400-500 prepared, though, which is the minimum price for a good bike. You can also come across many cheaper models, but they are certainly all run off the mill products that will cost you money to repair later.
Vitus Nucleus VR – approximate $660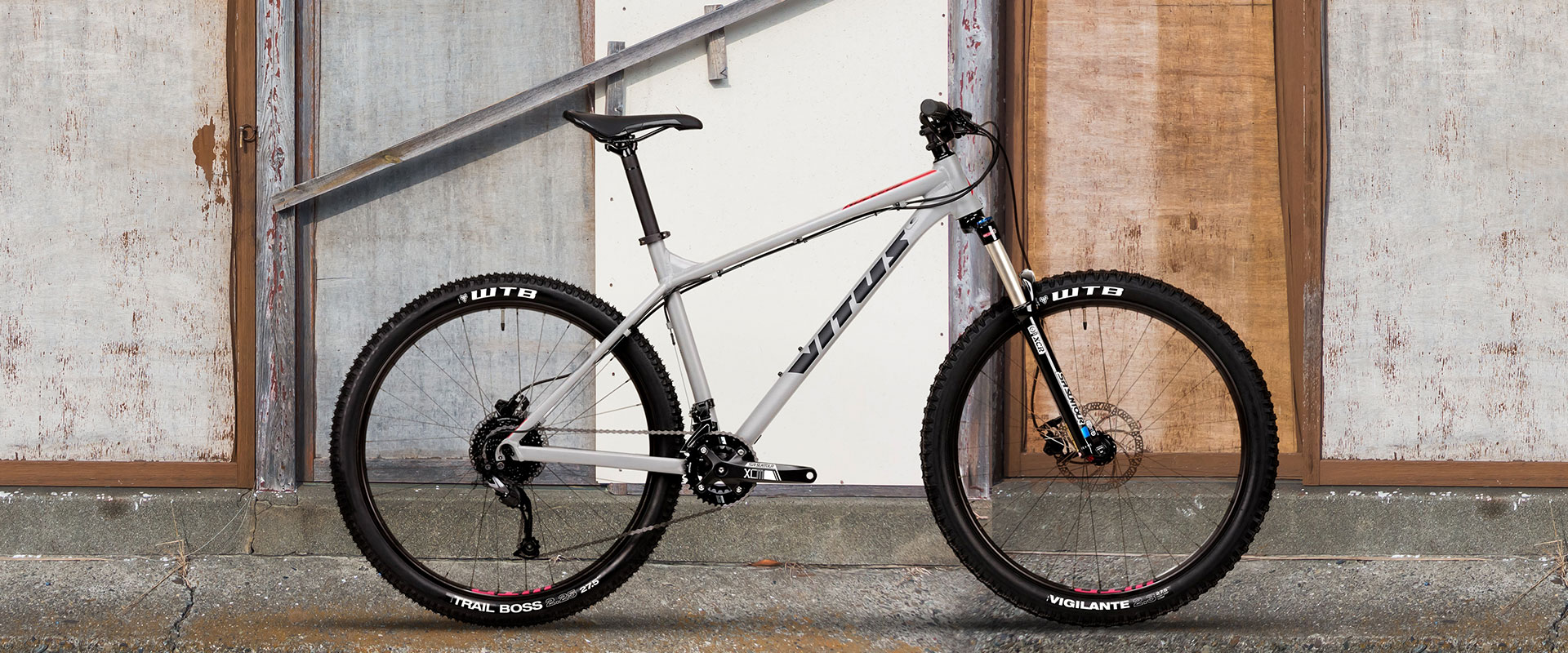 Vitus is an iconic bike manufacturer based in France; they are well-known for making bikes with high-end steel tubing technology. The Nucleus from Vitus brand has always been a familiar name in the list of highly regarded entry-level mountain bikes; it even wins MBR Hardtail of the year persistently from 2016 up to now.
Nucleus bikes are improved every year. The latest version is equipped with 1x gearing, a single 32t sprocket in the front, and an 11-40t rear cassette. This combination makes cycling through rugged terrain simple and easy because of the optimal clearance over obstacles. Besides, the new Nucleus version also includes a wider Suntour air-sprung fork to help increase the bounce when you cruise over rocky roads.
Vitus Nucleus VR comes in four frame sizes, two-wheel size options. It is a bike suitable for both men and women at an incredibly competitive price.
Calibre two cubes (TWO3) – approximate $600
Many cyclists will consider this choice a proper bargain when it comes to Caliber bikes. TWO3 is a name on MBR's "Editor's Choice" list in 2019 because its features far outweigh its cost.
In the 2020 TWO3 release, many improvements have been made to bring enhanced performance. First, go to Tektro hydraulic disc brakes, which will help you control your bikes at high speeds. Next is the RockShox XC30 forks, which makes your ride as smooth as possible. The grips in the corners also help keep the steering wheel steady.
This is undoubtedly a bold candidate on the list of the best entry-level mountain bikes with a reasonable price tag.
Merida Big Nine 15 – approximate $680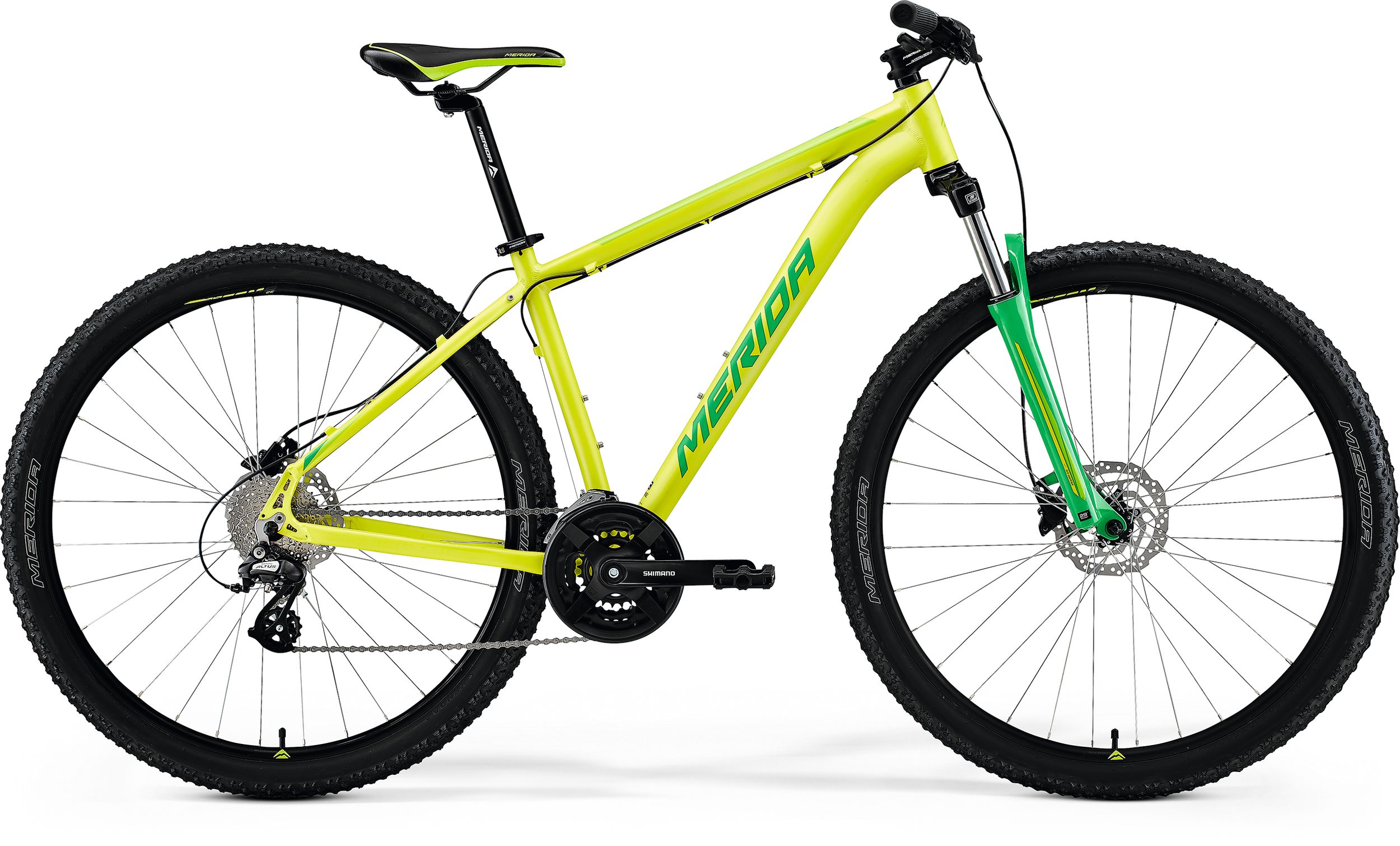 This Big Nine 15 is suitable for vacationer and recreational cyclists who want to hoon it to trails that are not too challenging. The Merida has offered a cross-country geometry that comes with this model. Small trail bumps are also not a big deal thanks to the 100mm coil-sprung Suntour fork and big wheels 29 inches in diameter. One of the significant components is the full Shimano groupset.
Painted in 2 color options, this 29-inch wheel model has five frame sizes from XS for those under 163cm to XXL for those over 192cm, suitable for all customers with various bike fit.
Pinnacle Kapur 2 – approximate $620
Pinnacle is a brand of Evans Cycles Retainers. This company is famous for its cheap bikes of good quality. One of its highlights is The Kapur 2. For products in the same price range, The Kapur 2 is a prominent name.
Its modern black and orange paintwork is sure to turn your head in every bike shop.
The Kapur 2 is equipped with a hydraulic brake, which is similar to TWO3 from Calibre; thanks to this feature, you can have an excellent stop in all weather.
The Kapur 2 is a bargain, but you can also spend about $ 120 more to upgrade to The Kapur 3 with more upgraded features.
Which One Will Be My Best Mountain Bike?
It's hard to define the best mountain bike due to different preferences, usage purposes, and many consumers' budgets. Those who intend to race across the country will probably need a bike, which is different from those who occasionally go trail riding on weekends.
Typically, we would consider the following factors:
Bike style: (there are different mountain bikes: trail bikes, cross-country bikes, fat-tire bikes, all-mountain bikes, downhill bikes, park bikes). Each type will have unique suspension travel; it is the amount of movement. This number varies depending on the front and rear suspension of the bike.
Wheel size: Normally, there will be three wheel sizes for you to choose from: 26 in., 27.5 in. and 29ers. The bigger the wheel, the better the movement will slow down when climbing, but in return, they will help you move further thanks to momentum.
Frame materials: This is a crucial feature as it will affect the vehicle's weight, durability, and stiffness. For mountain bikes for money, aluminum alloy is the most commonly used material.
Gearing and brakes: are also traits to look at because they will determine the smoothness of your ride and safety.
The most crucial thing: bike fit. Know that the car you are about to buy will fit you well in height and posture. Because if you want to ride a long-distance bike, you need to ensure that you will be in the most comfortable position. Choosing the wrong size vehicle will quickly tire and hurt your back. So, to know which is the best mountain bike you're looking for, the only way is to go for a test ride at a bike store.
Final Thought
I have just listed out five mountain bikes that can help you nail the trail on a budget. If you are a tiptoeing in trail riding cyclist, you don't have to drop a boatload of money for a bike; you can do it after becoming a professional cyclist in the future. I hope you will find yourself the most affordable mountain bikes that shred with these helpful buying tips and advice.